The Rods began in 1946 as the Fort Rouge Rods and played out of the Kelvin High School field. The team colours were red & white.
We were named after the common 1940's nickname for a young man – a Rodney.
Over the years, the Rods became the Winnipeg Rods and settled in to be the St. James Rods.
Player Manufacturing Company
Over the years, the Rods have been known in professional football as the 'Player Manufacturing Company'.
A reputation earned for developing more professional players than any other junior club in Canada.
The years saw the Rods dominate the football scene in western Canada with 10 trips to the Western Canadian Final & picking up three Junior Canadian Football Championships.
The 1955 Rods team was inducted into the Manitoba Sports Hall of Fame for being the first Manitoba team to win a National Championship.
To date, there are 45 Rods players who went on to play professional football
Ray Ash, Gar Baxter, Walt Bilicki, Bob Bronk, Jack Bruzell, Paul Cholakis, Billy Cooper, Gerry Dugald, Noel Dunford, Ron Everett, Russ Haines, Cory Huclack, Tom Harpley, Tony Kehler, Ed Kotowich, Don Kubesh, Ron Latourelle, Glen Leonard, Dennis Liebrecht, Doug MacIver, Rod 'Red' McDonald, Cyril McFall, Jim McPherson, Bernie Morrison, Brian Palmer, Keith Pearce, Cornell Piper, Bruce Pirt, Kevin Robson, Paul Robson, Roger Savoie, Matt Sheridan, Bill Smitiuch, Gord Sturtridge, Ron Vaacher, Gerry Vincent, Chris Walby, Keith Webster, Eugene Wlasiuk, Lyle Wosnesynski, Anthony Coombs, Kienan LaFrance, Justin Herdman, Jordan Herdman
If you have stories, old photos, newspaper clippings, etc. from seasons gone by, contact us at president@rodsfootball.com.
For a clenched fist is our emblem
Of the way we play the game.
With strength, the guts, the stamina
Whether healthy, bruised or lame.
And when a team takes on the Rodneys
They will know they've met the best.
For when the big black really starts to roll
They go down like all the rest.
A clenched fist is our emblem
And the Rods team is our name.
And we'll always fight towards the goal.
To uphold its Glory and Fame.
1957
View 1957 team photo
1959
The team moves to St. James
1961
Rods win National Championship
1965
Rods move for one season to St. Boniface
1978
Left the Manitoba-Saskatchewan Junior Football League to form the Manitoba Junior Football Conference.
1981
added Bantam (15-17 yrs) & Midget (18-20 yrs) teams with the Junior team
1987
Bantam (15-17 yrs) Midget (18-20 yrs) Junior (21- yrs)
1990
Junior team disbanded.
View 1990 photo
View 1990 Midget
1992
Peewee (11/12 yrs) Bantam (13/14 yrs)
1995
Atom age (9/10 yrs) team.
1996
View 1996 Reunion Program
1998
The Terminator age group (7/8 yrs) introduced to the League. Renamed the Cruncher age group in 2013.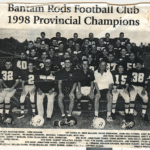 2006
Cruncher (renamed from Terminator (7/8 yrs)
Atom (9/10 yrs)
Peewee (11/12 yrs)
1 Bantam (13/14 yrs)
1 Midget (15-17 yrs)
1 Major (18-22 yrs) ..
2009
Midget team disbanded
2013
Joined with Fort Garry Lions to form midget team Southwest Wolves
2014
Manitoba Girls Football Association –started a Senior team ages 13-17 yrs.
2017
Southwest Wolves midget team disbanded
2019
Manitoba Girls Football Association –started a Junior team ages 9 -12yrs.